Micro Lotus: Stunning Beauty in a Tiny Package
By Ken bernard and Craig Mathews
In 1999, I saw a lotus blossom at Garden Ponds and I took one of my first digital pictures. It later became my business card and one of my best photographs to date. Why did it become such an important symbol in my life? That lotus blossom enchanted me in some way, and it inspired me to share it with others. 
For over 20 years, I have been teaching people how to grow, divide, and nurture the lotus. I remember when I first noticed Buddha sitting on a lotus blossom and many questions came to my mind. Why does Buddha sit on a lotus blossom? We hear the story of the mire the human race is involved in and through the muck, the lotus pads and buds rise, without the mud sticking. The hairs on the pads repel dirt and water beads up on its pads. The rain dances on the pads and fills its upright pad like a cup, until it tilts and the water flows out like a pitcher, only to begin the process again.
Have you ever smelled the lotus blossom on its first day of opening as a female blossom? Close your eyes and take a deep breath and you will find it hard to compare that smell to anything else. The images that may come to mind can take you on a timeless journey. 
The lotus is believed to be one of the first flowering plants on the planet and are said to be over 120 million years old. On the second and following days, the blossom turns into a male and it spreads its pedals gently open for all to marvel at, as if lighted from within. This continues each day until the male blossom starts dropping its pedals on the fourth or fifth day, creating little boats floating on the water.
Last year was our most exciting year as a part of the lotus world, as we introduced our first micro lotus, the Spring Rain in Linan. A micro-lotus, as its name suggests, is a miniature variety of lotus. While your standard lotus varieties will have standing leaves anywhere from 18-60 inches out of the water, the leaves of the micro lotus stand a mere 6-10 inches out of the water. While they do not stand tall, they pack a big punch of color that will be sure to brighten up your garden.
The micro lotus was developed in a specialty nursery in China in 2013, with the first variety being named "Spark". The Spark micro lotus became the primary parent in the future development of micro lotus. There are currently about 20 named and introduced varieties of micro lotus, including the Spring Rain in Linan, which we have available here at Garden Ponds.
Much like our larger varieties of lotus, the Spring Rain in Linan blossoms during the late spring into the summer and will go dormant during the winter. These miniature beauties can be grown in as small as a 3" diameter pot, though this is only recommended for experienced growers. It is recommended to grow them in a minimum of a 6" diameter pot for your average grower, with larger pots producing a larger plant.
The ability to grow these plants in as small as a 6" pot allows for much more diversity in your water garden. Rather than having just one lotus in your pot that looks gorgeous through the summer, you can now pair a micro lotus with any number of other aquatic plants, including water lilies, to bring beauty and color to your garden year-round. Another fascinating attribute of the micro lotus is they do not need full sun. Unlike their larger cousins, they can thrive in medium sunlight, further expanding the places you can have a beautiful micro lotus!
This year, we will have the stunning Spring Rain in Linan available in 8", 9" and 12" pots. While they won't be available until the late spring, stop by Garden Ponds and we would love to tell you more about our newest addition to the Lotus Family. Don't miss your chance to add this exquisite Micro Lotus to your Water Garden!
We are open Wednesday through Sunday, noon to 5 p.m. Give us a call at 808-828-6400 for all of your water gardening questions. We are located in Kilauea next to Kauai Mini Golf and Banana Joe's Fruit Stand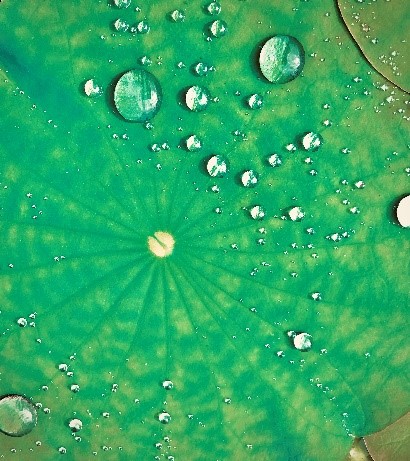 Typical of Lotus leaves, the water is repelled – forming dew drop like beads