Rain chains are a beautiful and functional alternative to traditional, closed gutter downspouts. Guiding rain water visibly down chains or cups from the roof to the ground, rain chains transform a plain gutter downspout into a pleasing water feature. From the soft tinkling of individual droplets to the soothing rush of white water, they are a treat to listen to.
Rain chains ('kusari doi' in Japanese) in concept, are not a new idea. For hundreds of years, the Japanese have used the roof of their homes to collect water, transporting it downward with chains and finally depositing the rain water into large barrels for household water usage. Japanese temples often incorporate quite ornate and large rain chains into their design. Rain chains have been spotted in South America, where chain is easier to obtain than machined downspouts.
The Japanese often put a ceramic or stoneware pot beneath the chain which fills with water, so that when it rains, the water drips from the chain into the pot, creating a beautiful display.  Channeling water can provide a restorative experience and help connect people to natural systems, while highlighting the seasonality of water.
You can find an excellent selection of high quality heavy gage copper and aluminum rain chains on our online store www.indopacificemporium.com which are orderable by the foot, so you can get the exact measurement you need from your gutter, to the ground. We offer free shipping to Hawai'i or anywhere on the continental USA.
Come visit our nursery on Kilauea to see our gorgeous selection of ceramic pots that can serve as an artful catch basin for your rain chain or as a statement water garden. Paros vessels, which are a mixture of pumice, lava and concrete make for a beautiful rain chain catchment. Paros is lightweight, absorbs and hold water well, and ages quickly; developing a coating of lichen and moss that adds to it's appeal. For this reason, we have chosen to have our carvers create a line of vessels designed to sit under rain chains, to beautifully capture the flowing water. Paros pots may also be custom ordered on our online store, www.indopacificemporium.com
Garden Ponds is located in Kilauea, next to the Kauai Mini Golf. We are open Wednesday through Sunday, noon to 5 p.m. Give us a call at 808-828-6400 or visit us at www.gardenpondskauai.com  You can check out our class schedule at: Eventbrite at https://www.eventbrite.com/o/garden-ponds-18511098954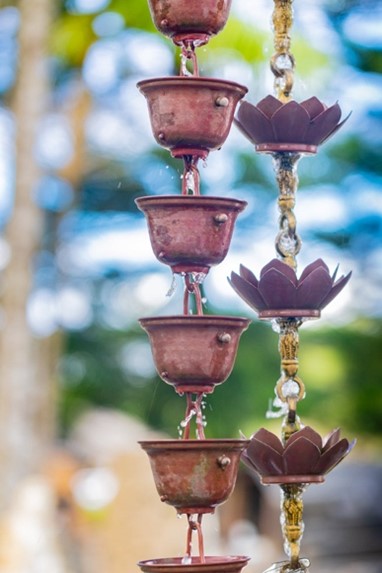 Copper bells and double lotus copper rain chains with water flowing down them creates the most magical of sounds…garden therapy anyone?
Custom order paros pots as a catchment basin for your rain chains